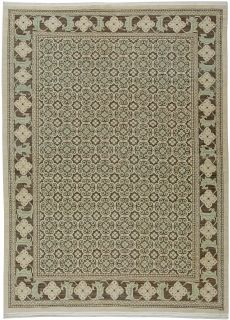 The expression allover rugs or allover rug design refers to the pattern or motif being spread throughout a rug so that the design repeats itself over and over. The advantage to this type of patterning is that furniture can be placed any where on the rug without covering the design. Usually the scale of the design is relatively small.
Rug styles with all over designs can be found in Antique Persians, particularly Tabriz rugs, as well as Antique Turkish, Indian and Chinese rugs. All over designs are more prevalent in vintage European rugs. Art Deco Textile designer Paule Leleu, the daughter of Jules Leleu is known for her repetitive use of diamond shapes. although not all of her designs can be classified as all over rugs. She also frequently used floral motifs for all over designs.
Scandinavian rugs use the all over design technique by incorporating abstract geometric shapes but not always uniformly. I suspect they were less constrained by formal interiors as the market for these rug designs was more casual and less pretentious.
Rugs can be art objects in their own right or they can be a balance, a weight, a little change of texture in a smooth, old wooden floor; or color against pale shades; or again, a color match to similar hues. The choice is wide but there is one style of rug that adds texture without dominating a room, that adds richness and softness of line while complimenting modern or traditional décor and that is the all over rug.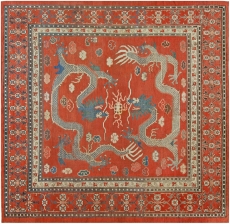 To incorporate an antique into a contemporary interior takes flair and imagination. To assimilate an oriental antique Samarkand Carpets and Rugs into a western design demands daring and wit; and to integrate an exotic oriental antique into a familiar setting takes a designer of singular talent and with the lightest but surest of touches. The rugs of the oasis towns of East Turkestan are incomparable. These exotic weavings from the oases towns of Kashgar, Yarkand and Khotan in the Chinese occupied Autonomous Region of Sikiang are collectively known as Samarkands.
HISTORY OF SAMARKAND CARPETS AND RUGS
Typically, they are of long and relatively narrow format with simplistic and spacious designs rendered in glossy wool and sometimes in richly brocaded silk and metal-thread. The unusual rugs of Central Asia display themes from many cultures including China with fretwork borders, lotus blossoms and cloud-bands; India with the swastika denoting infinity; Turkey with bold reciprocal borders and carnations and Persia with floral trellis work.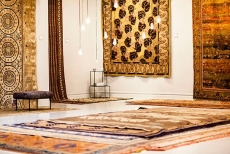 By Hannah Martin, Architectural Digest, October 8, 2014.
Graham Head confesses that he's probably bought more rugs than any other human on the planet. Except for, possibly, Nader Bolour. This should come as no surprise. As the vice chairman of ABC Carpet & Home and the owner of renowned rug dealership Doris Leslie Blau, respectively, these men have followed their love of floor coverings quite literally to the ends of the earth.
On Tuesday, October 7th, Head and Bolour opened "The Thrill of the Hunt," a gallery-like collaboration at ABC Carpet & Home that showcases 24 handmade heirloom carpets that have as much personality as provenance.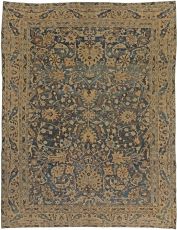 The making of antique rugs has not changed for centuries; the same rudimentary techniques and materials are used from Turkey, China, Persia, India, Morocco, Russia, Europe and the surrounding areas. Each culture ensures the longevity of their design iconography through the making of the carpets. Antique rugs can stand on their own for historical importance and cultural significance. Most high-end carpets were made in sophisticated urban settings in well established cities where value was placed on such fine artistry.The more casual Persian tribal rugs were woven by nomadic tribesmen and women as they had access to coarser material and did not have the advantage of established rug looms such as those used to make refined city rugs. As antique rugs are perishable this leaves us with a very vague evolutionary outline indeed.
Antique carpets can vary in color, size, designs and material. The current trend in buying antique rugs is towards the washed-out neutral colors which can be used in any environment. Although antique oriental rugs come in a plethora of rainbow colors they anchor any room and create an inviting ambiance. It was once said that, "the carpet/rug is the soul of the apartment." Antique rugs were originally made for the western market in countries such as India, Persia and Turkey. As the industrial revolution created a new merchant class, antique rugs were one of their status symbols for wealth and good taste. Watch any period film form the late 19th or early 20th century and you will almost certainly see an oriental rug in one of the interiors.
Exceptional rugs for your interior design