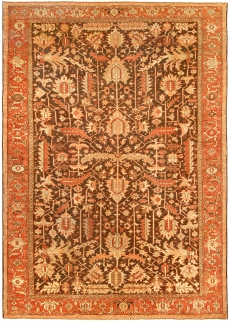 The quality and aesthetics of village rugs lie somewhere between rugs produced in city workshops and those woven by nomadic tribes all over the world. Over time, some nomadic tribes began to settle on the periphery of cities or villages and thus pick up some of the techniques and designs of the larger workshops. The casual rug weaving of the tribes blended with the formal strict city rug industry giving village rugs their own unique style.
Village rugs are coarser than city rugs and are produced without use of a cartoon. Also contributing to their distinct appearance is the fact that, while they are woven on vertical looms like city rugs, they integrate nomadic motifs. Village rugs are produced by a head weaver who leads a team of subordinate weavers according to his design. The patterns used in the village rugs are more angular than the more sophisticated floral imagery found in city rugs. Color variation is also more drastic in these rugs ranging from subtle shades to dramatically darker tones.
Village carpet-weaving is a venerable traditional trade often handed down from generation to generation. Some of the major village carpets popular in the international markets include Bakshaish, Heriz, Serapi, Bakhtiari, Malayer and Serab. These genres of village carpets are in demand for their less formal decorative designs and availability in large room sizes.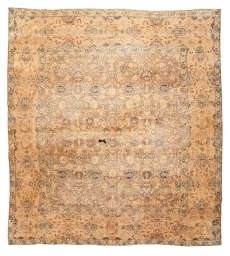 Are you looking for a rug or carpet to fill the floor space in your home with intricate patterns, designs, and colors? A city rug may be the answer. Built in master workshops in places such as Hereke, Kirman, Tabriz, Kashan, and Meshad, city rugs are generally larger than village rugs and have tighter knots reflecting a higher level of craftsmanship. These rugs are the perfect way to give your floor more elegance and style.
Rugs from the Masters in the City
The largest rugs and carpets are those that were meant to be rolled out in palaces. For example, The Ottoman Sultan Abdülmecid I, in 1841, founded the Hereke Imperial Manufacture to produce all rugs, carpets, and textiles for the Dolmabahçe Palace. High quality rugs and large carpets in one-of-a-kind patterns were made for him by the best carpet weavers and artists of the Ottoman Empire. Hereke carpets are usually large and use double knots make the clearer and more harmonious patterns that make them so collectible today. You can still find Hereke city rugs manufactured today in the patterns of the Ottoman Sultan Abdülmecid.
Kerman carpets (named after Kerman, a city and province located in Iran) are actually a classification of traditional Persian carpets. Since the 15th century, Kerman has been a center for production of high quality carpets. Some consider the carpets from Kerman to be the finest Persian carpets, probably partly because of Carmania, the high-quality wool that comes from the region. The designs of Kerman rugs and carpets are also distinct. For example, Vase carpets have overall patterns of flowers and palmettes with vases placed throughout.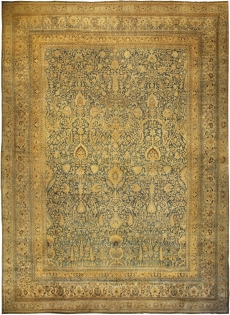 The cypress tree, an evergreen conifer commonly found near the Mediterranean Sea, as well as the Southeastern and Gulf Coastal Plains of the United States, is known to be a Zoroastrian symbol of life and eternity. This belief dates back to ancient times. Back in the day, Egyptians would use strong trees, such as the cypress, to build mummy cases. Moreover, the Greeks would also use them to create urns where they would store the ashes of those who had died in battle. Plato's code of laws was etched into the wood of a cypress tree because it was believed to be more durable than brass. This fascinating history of cypress trees is now reflected in Near Eastern rugs.
Cypress Rugs
Indian carpets are known for having cypress tree designs. Most of them are characterized by beige, ivory, or green fields filled with staggered cypress trees, vines, and shrubs. These cypresses and flowering trees are usually arranged around a central floral or fauna and enclosed in a gracefully designed mille fleur and rosette border. Persian rugs, such as Bakthiari, Tabriz, Kirman, and Khorassan, are also well-known for showcasing cypress tree designs. They usually exhibit dark-colored fields filled with weeping willows and cypresses enclosed in a palmette or flowering vinery trellis border. More so, Turkish rugs are also famous for having cypress tree designs. Oushak carpets, for instance, are characterized by brown fields with blossoming shrubs surrounded by mille fleur, weeping willows, and cypresses enclosed in a floral motif border.
Read more: Enhance the Look of Your Home by Buying Cypress Rugs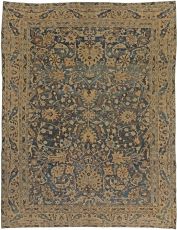 Antique Rugs and vintage rugs add a dimension of style and history to a room that no other floor covering can match. Varying in style, based on local tradition, these rugs have been used for thousands of years as a beautiful and practical foundation on which to build a room. With offerings of antique Persian rugs, antique Oriental rugs, antique Karastan rugs, antique area rugs, vintage rugs, and Moroccan rugs, no matter your preference for color, texture, style or vintage, Doris Leslie Blau offers the widest selection of antique carpets and vintage carpets for sale to fulfill your dreams.
While some of the technology may have evolved, the basic art of making rugs has not changed for centuries; the same basic techniques and materials are used whether the antique carpet is from Turkey, China, Persia, India, Morocco, or Russia.
Most high-end carpets were made in sophisticated urban settings, in well-established cities where value was placed on fine artistry and the stability of a permanent worksite allowed for use of larger and more sophisticated looms. The more casual tribal rugs were woven by nomadic tribesmen and women whose access was limited to coarser material and smaller, more basic, easily portable looms as opposed to the permanent looms used to make the more refined city rugs.
Exceptional rugs for your interior design