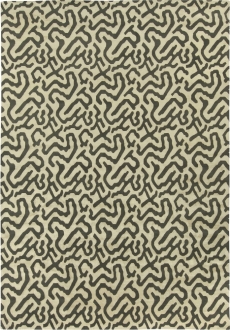 Rugs have been there ever since man thought he should have something beneath the feet even when slippers are not; contemporary rugs came in when stilettos replaced slippers! These rugs have their designs derived from modern forms of art such as graphical patterns and three D.
With antique carpets, a rug that fits in with the decor is hard to find but contemporary rugs make it easy to develop a harmony between the floor and the decor without much modification. Their styles vary just like designs in any fashion and ornamental items do. There are complex and intricate patterns on these contemporary rugs on one hand while on the other they can be as simple as squares and rectangles entangled in a mesh of vibrant threads weaved together by experts.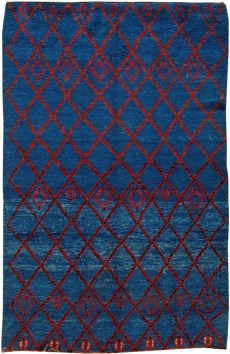 Interior design and product design of the mid 20th century have become iconic representations of modern design. Vintage rugs are also included as icons of design of the mid 20th century. Rugs of this period, 1940 through the 1960's include Moroccan, French Modernist and Scandinavians. The most sought after being Swedish rugs designed by textile artists such as Marta Maas-Fjetterstrom, Barbro Nilsson and Ingrid Dessau.
These Swedish rugs are easily identified as they are often signed. The initials of the designer can be found woven into the edge of the rug. MMF identifies Marta Maas-Fjetterstrom as the designer and when accompanied by the letters AB identifies the MMF facility in Bastaad as the studio where the rug was woven. Swedish rugs were woven as very intricate Tapestry weaves as well as Flat weaves. Swedish Rya rugs are are an early version of contemporary shag rugs and have an elongated wool pile that resembles fur. The Swedish mid-century rugs have a sophisticated folk art sensibility and the craftsmanship and skill is evident. The women who wove and designed these rugs are respected as innovators of design and as highly skilled technicians.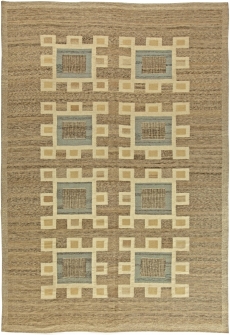 Scandinavia has long been associated with rug weaving. The region is known for the quality of rugs produced there. They are definitely on par with Chinese and Persian rugs. For centuries Scandinavian rugs have been hand crafted by weavers in Norway, Denmark, Sweden and Finland. In the present rug market, contemporary Scandinavian rugs are very popular. These types of carpets are favorites among area rug enthusiasts. Swedish rugs deserve special mention as they are attributed for their versatile designs contributed by professionals like Marta Maas-Fjetterstrom.
The History of Scandinavian Rugs
The history of rug weaving in Scandinavia is not as simple as other parts of the world. Rug making is more correlated to the cultural spread rather than being an art form in the region. The weavers here were highly influenced by the Asia Minor and Anatolia rug makers like their European counterparts. The increase in the demand for Scandinavian rugs in the Byazntine Empire paved the path for the manufacturing of very fine rugs.
Read more: The Scandinavian Rugs - what they are and why they are so popular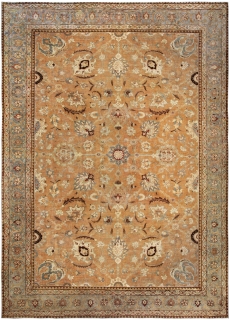 Antique Rugs and vintage rugs add a dimension of style and history to a room that no other floor covering can match. Varying in style, based on local tradition, these rugs have been used for thousands of years as a beautiful and practical foundation on which to build a room. With offerings of antique Persian rugs, antique Oriental rugs, antique Karastan rugs, antique area rugs, vintage rugs, and Moroccan rugs, no matter your preference for color, texture, style or vintage, Doris Leslie Blau offers the widest selection of antique carpets and vintage carpets for sale to fulfill your dreams.
While some of the technology may have evolved, the basic art of making rugs has not changed for centuries; the same basic techniques and materials are used whether the antique carpet is from Turkey, China, Persia, India, Morocco, or Russia.
Most high-end carpets were made in sophisticated urban settings, in well-established cities where value was placed on fine artistry and the stability of a permanent worksite allowed for use of larger and more sophisticated looms. The more casual tribal rugs were woven by nomadic tribesmen and women whose access was limited to coarser material and smaller, more basic, easily portable looms as opposed to the permanent looms used to make the more refined city rugs.