Free shipping for any antique or vintage rug
How to Select
an Antique Rug
Nader Bolour, president of Doris Leslie Blau, tells Wall Street Journal Wealth Adviser what you need to know about purchasing an antique or vintage rug.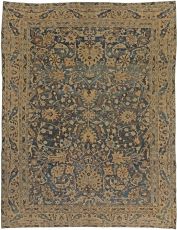 The making of antique rugs has not changed for centuries; the same rudimentary techniques and materials are used from Turkey, China, Persia, India, Morocco, Russia, Europe and the surrounding areas. Each culture ensures the longevity of their design iconography through the making of the rugs. Antique Rugs can stand on their own for historical importance and cultural significance. Most high-end carpets were made in sophisticated urban settings in well established cities where value was placed on such fine artistry. The more casual Persian Tribal Rugs were woven by nomadic tribesmen and women as they had access to coarser material and did not have the advantage of established rug looms such as those used to make refined city rugs. As antique rugs are perishable this leaves us with a very vague evolutionary outline indeed.
Antique Rugs can vary in color, size, designs and material. The current trend in buying antique rugs is towards the washed-out neutral colors which can be used in any environment. Although antique oriental rugs come in a plethora of rainbow colors they anchor any room and create an inviting ambiance. It was once said that, "the carpet/rug is the soul of the apartment." Antique rugs were originally made for the western market in countries such as India, Persia and Turkey. As the industrial revolution created a new merchant class, antique rugs were one of their status symbols for wealth and good taste. Watch any period film form the late 19th or early 20th century and you will almost certainly see an oriental rug in one of the interiors.
The Doris Leslie Blau gallerys has one of the largest inventories of Antique Rugs for sale in the north east. We are dedicated to finding and buying the rarest, finest quality of antique rugs and carpets available and have been for 45 years. Please visit our outstanding collection of oriental antique rugs on the web or in our gallery. Whether you are seeking a vibrant area rug to be the focal point of your room, or a subtle allover rug to blend in simply with a design scheme, we are confident that we can assist you in your antique rug search.
Author: Doris Leslie Blau