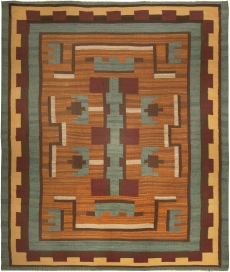 Interior design and product design of the mid 20th century have become iconic representations of modern design. Vintage rugs are also included as icons of design of the mid 20th century. Rugs of this period, 1940 through the 1960's include Moroccan, French Modernist and Scandinavians. The most sought after being Swedish rugs designed by textile artists such as Marta Maas-Fjetterstrom, Barbro Nilsson and Ingrid Dessau.
These Swedish rugs are easily identified as they are often signed. The initials of the designer can be found woven into the edge of the rug. MMF identifies Marta Maas-Fjetterstrom as the designer and when accompanied by the letters AB identifies the MMF facility in Bastaad as the studio where the rug was woven. Swedish rugs were woven as very intricate Tapestry weaves as well as Flat weaves. Swedish Rya rugs are are an early version of contemporary shag rugs and have an elongated wool pile that resembles fur. The Swedish mid-century rugs have a sophisticated folk art sensibility and the craftsmanship and skill is evident. The women who wove and designed these rugs are respected as innovators of design and as highly skilled technicians.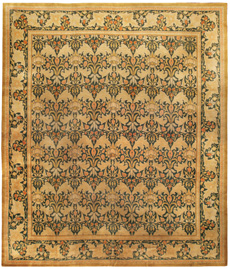 When it comes to rugs and carpets, design is one of the key factors that is taken into consideration by those who purchase such products.
Aside from materials and quality, the design of any rug or carpet matters greatly if you want your floor piece to create a unique impact and add an elegant appeal to your home. Adding a classical rug, regardless of the theme of your home interior, with a hint of the past can make a tremendous difference.
Let your guests be awed by your magnificent home furnishings especially your rug, which can very well be the centerpiece in any room. What can make it even more amazing is if it carries with it a touch of the arts and crafts movement which originated in the 19th century in Great Britain. In case you are not familiar with this movement, it was supported primarily by people dedicated to achieving high quality craftsmanship in home furnishings.
The arts and crafts movement was first founded by William Morris.
Read more: The ARTS AND CRAFTS MOVEMENT: A Journey to the Past
The Louvre in Paris, The Vatican in Rome, The Victoria and Albert Museum in London, The Metropolitan Museum of Art in New York City, and The White House in Washington, D.C. - All of these magnificent and fabulous places all have floors that are adorned with rugs made from the Caucasus region. Produced as village carpets rather than city-made creations, these rugs are woven in a traditional method using the loom, a frame-like device that applies tension as a means to hold the warp threads together to enable interweaving of the weft threads.
Caucasus rugs are one of three major categories of Oriental rugs (the other two being of Anatolian and Persian origins). They all are hand-woven without pile or pile-knotted. Caucasus carpets are characterized by definitively bold colorations and daring geometrical designs.
Technically speaking, Persian carpets today are produced in Northwest Iran, Iran being the modern name of Persia, but officially, this northwestern region is actually Southern Azerbaijan, a nation that was under the defunct Union of Soviet Socialist Republics (USSR). It goes without saying that the rug weavers of Persian rugs are Azeris, not Persians (or Iranians). Azerbaijan rugs are not only woven in the same method and with the same kind of materials used before the Bolshevik Revolution of 1917 but bearing the same traditional patterns and designs pre-dating even the 1917 historical event.
Read more: Know How Your "Persian" Rug Could Actually be a Caucasus Carpet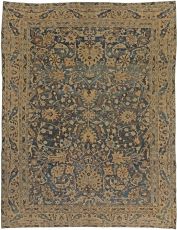 The making of antique rugs has not changed for centuries; the same rudimentary techniques and materials are used from Turkey, China, Persia, India, Morocco, Russia, Europe and the surrounding areas. Each culture ensures the longevity of their design iconography through the making of the carpets. Antique rugs can stand on their own for historical importance and cultural significance. Most high-end carpets were made in sophisticated urban settings in well established cities where value was placed on such fine artistry.The more casual Persian tribal rugs were woven by nomadic tribesmen and women as they had access to coarser material and did not have the advantage of established rug looms such as those used to make refined city rugs. As antique rugs are perishable this leaves us with a very vague evolutionary outline indeed.
Antique carpets can vary in color, size, designs and material. The current trend in buying antique rugs is towards the washed-out neutral colors which can be used in any environment. Although antique oriental rugs come in a plethora of rainbow colors they anchor any room and create an inviting ambiance. It was once said that, "the carpet/rug is the soul of the apartment." Antique rugs were originally made for the western market in countries such as India, Persia and Turkey. As the industrial revolution created a new merchant class, antique rugs were one of their status symbols for wealth and good taste. Watch any period film form the late 19th or early 20th century and you will almost certainly see an oriental rug in one of the interiors.
Exceptional rugs for your interior design