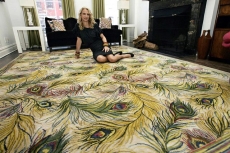 You admired hip designer Nanette Lepore's peacock-patterned dresses, but they were so three years ago. Now you can resurrect the pattern for your floor.
Lepore has joined a growing list of fashion designers -- Calvin Klein and Liz Claiborne (with Nourison), Oscar de la Renta (with elson & co.), Vivienne Westwood, Paul Smith, Diane von Furstenberg, Lulu Guinness (with The RUG Company) -- all translating their passion for fashion design to floor coverings.
Lepore recently introduced a bold-patterned area rug with her peacock design for the Doris Leslie Blau carpet gallery in New York. The gallery also in early March unveiled two nautically inspired rugs designed by Tommy Hilfiger (one blue with white anchors, the other navy with a red chain-link pattern).
In a phone interview, Lepore said she was approached by the carpet folks and is happy she did the project, especially since she now has one of her rugs in her own living room.
"The way it transformed my living room with color and a bold pattern, it would be fun to do more of that," the designer said. In fact, she's considering designing another rug for her pool table area that the public may see in stores someday.
What do those in the world of interior design think about fashionistas stepping in?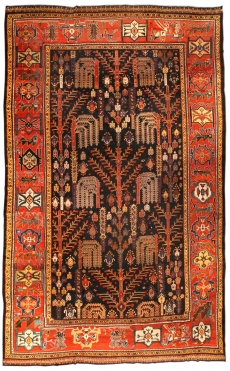 Some people think rugs and carpets are old-fashioned. But while carpets have been filling a dual function in people's homes for thousands of years, they are both Beautiful to look at and a great way to moderate the climate in a room. Why else would they still be around after millennia? The endless design possibilities and amazing colors they offer can transform any room to a magical place. Your floor does not need to be dull and boring. It's the foundation of your room. It expresses your home's soul.
People just starting to shop for the right rug or carpet for their home may be amazed with the many options you can choose from. But you do not have to be a professional interior designer to have an eye for the right floor covering. As long as you feel that your choice adds warmth and reflects your personality in the room, then it is the right choice for you. There is no need to over-complicate things.
Aubergine, green, magenta – name the color and there is a carpet out there that weaves in your color story and perfectly enhances the aesthetics of your room while creating a feeling of luxury and elegance in the surrounding area.
At Doris Leslie Blau we have several collections of rugs and carpets that offer both the comfort and the design to match your personality, style, and decorating requirements.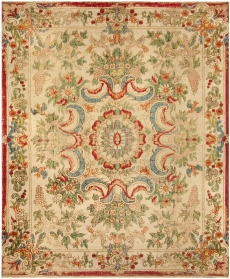 Are wondering what makes AUBUSSON rugs so special? Well there are a number of reasons! These floor coverings have a storied past and carry with them a reputation for high quality and high standard of craftsmanship. A home with an Aubusson rug can feel like a palace by virtue of its strong lineage of luxury and grandeur.
When you walk around a stately home, you cannot help but gasp at its beautiful architecture, elegant furnishings and decor. Imagine a splendid home with extremely large rugs hand-sewn hundreds of years ago! It would take your breath away, wouldn't it? Now, if you take a closer look, you will be in awe of the colors, designs, and detailed weaving with intricate scrolls and Rococo features of delicate flowers woven in an assortment of colors. This is what makes an AUBUSSON rug so special.
These outstanding French-inspired floor coverings are just part of our collection of magical rugs. We take great pride in the fact that our rugs and carpets are of the highest quality and some of the best examples of their styles and heritage to be found anywhere in the world, whether new, vintage, antique or custom.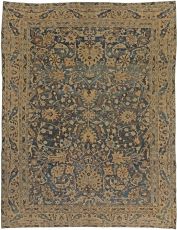 Antique Rugs and vintage rugs add a dimension of style and history to a room that no other floor covering can match. Varying in style, based on local tradition, these rugs have been used for thousands of years as a beautiful and practical foundation on which to build a room. With offerings of antique Persian rugs, antique Oriental rugs, antique Karastan rugs, antique area rugs, vintage rugs, and Moroccan rugs, no matter your preference for color, texture, style or vintage, Doris Leslie Blau offers the widest selection of antique carpets and vintage carpets for sale to fulfill your dreams.
While some of the technology may have evolved, the basic art of making rugs has not changed for centuries; the same basic techniques and materials are used whether the antique carpet is from Turkey, China, Persia, India, Morocco, or Russia.
Most high-end carpets were made in sophisticated urban settings, in well-established cities where value was placed on fine artistry and the stability of a permanent worksite allowed for use of larger and more sophisticated looms. The more casual tribal rugs were woven by nomadic tribesmen and women whose access was limited to coarser material and smaller, more basic, easily portable looms as opposed to the permanent looms used to make the more refined city rugs.
Exceptional rugs for your interior design